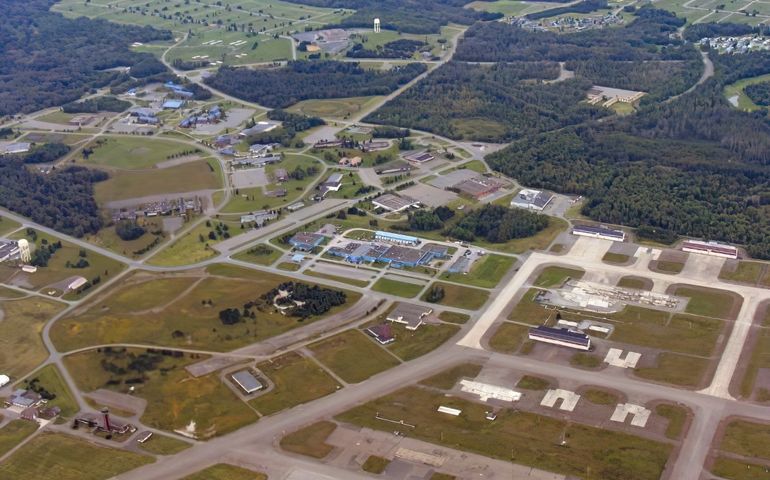 LORING COMMERCE CENTRE
The Loring Commerce Centre, formerly the Loring Air Force Base.
Acompany that plans to make synthetic aviation fuel has signed an agreement to build an Aroostook County production site that could employ up to 650 people.
DG Fuels LLC, which is based in Washington, D.C., signed an agreement with the Loring Development Authority for a long-term lease of 1,240 acres at the former Loring Air Force Base, now the Loring Commerce Centre. The site is near Limestone and Caribou.
Plans call for breaking ground in summer 2024, pending the company lining up financing in time. The site could open as soon as 2027.
"This exciting project will support efforts by the Mills Administration to revitalize the former Loring Air Force Base and bring new good-paying job opportunities to Aroostook County. We look forward to working closely with DG Fuels as this project continues to take shape," said Heather Johnson, commissioner of the Maine Department of Economic & Community Development.
In addition to the permanent jobs, DG Fuels said construction of a production site would create 2,300 jobs.
DG Fuels is creating a production site for synthetic jet fuel, which it sees as a more sustainable long-term option for commercial airlines than petroleum-based fuel.
The company describes itself as an "emerging leader in drop-in sustainable aviation fuel" and says the Aroostook site would create up to 175 million gallons per year.
"This kind of investment is key to the Loring Development Authority's strategy to innovate and promote economic development of Loring as a green energy hub for Maine as well as develop the airport for renewed operations." said Carl W. Flora, president and CEO, Loring Development Authority of Maine.
The company said northern Maine provides "key logistical and environmental advantages," with availability of stranded hydroelectric power, regional timber and agricultural waste.
"DG Fuels' base line process differs from other systems by having little or no environmental emissions either to the atmosphere or waters while at the same time providing a customer for all forms of agricultural waste to the region's agricultural community alongside waste from the timber industry." said Michael C. Darcy, CEO of DG Fuels.